How do I setup and manage campaigns?
MutualMind application has a 'site' and 'campaign' model. Each site is managed by at least one admin, has users (and is own login), preferred time zone, branding preferences and other controls. A site by itself has no social listening capability - that functionality is defined in a 'campaign' (this is just a label that we use; its not limited to a marketing use case). 
Within each site you may have one or more campaigns. Each campaign is an independent entity that contains keywords, settings and data. 
The components of a campaign include: 
keywords (for brand and competition category) 
social channels (e.g. Instagram, Twitter, Facebook, YouTube) 
filters (language, geolocation, exclusions)
adaptive listening rules
users that have access to that campaign (access controls can be set by admin) 
other settings and preferences
As mentioned above, you can run multiple campaigns from your site - the number of campaigns in your site depends on your account's business settings. Remember that each campaign is an independent entity with its own

 keywords, data, insights and reports.

 




Once you have created a campaign and added keywords/social channels to it, our listening platform gets to work immediately. The speed of incoming results depends on the frequency of mentions of your keywords on social media (walmart and starbucks are mentioned very frequently, other keywords may only be mentioend once an hour).
Multiple Campaigns
At any given time you are working on one of the active campaign in a site. You can choose to work on a different campaign by selecting that campaign from the drop down menu located at the top-right corner of any page in the application.
Once you pick a campaign to work with, it becomes sticky until you choose another one. Certain views within the app will automatically use the selected campaign. If a campaign has not been selected, the same views will ask you to choose one when you try to access them.
Each set of keywords/social channels are grouped into two main categories:
Brand Intelligence: You should add keywords and social channels related to your brand here.
Competitive Intelligence: You should add keywords and social channels related to your competitors here.
How do I create a campaign?
You have to be logged in as an admin level user to be able to create new campaigns. You can create a new campaign by following these steps: From the homepage, click the "Add Campaign" link under "Manage Campaigns" to begin. Once a new campaign is created, you will have to add the keywords and social channels you wish to monitor.




Campaign States: Active, Paused, Deleted
A campaigns remains active until it is paused or deleted. In active state, the data against the keywords is being collected 24x7. In paused state, the data is not being collected after the pause but prior data is available in the application. When deleted, the campaign and its data is permanently removed. 

Managing Campaigns
Admins can browse and manage (add/delete) campaigns from the "Campaign Management" page.
Paused campaigns are not displayed by default. Click on the "Show Paused Campaigns" link at the top right to view paused campaigns.


How do I pause a campaign?

If you are a partner who has been provisioned with a Partner Admin Dashboard, you can pause and un-pause (resume) your campaigns from there. 


Campaigns can also be paused or resumed from the Campaign Overview page by selecting the "Campaign Status" button.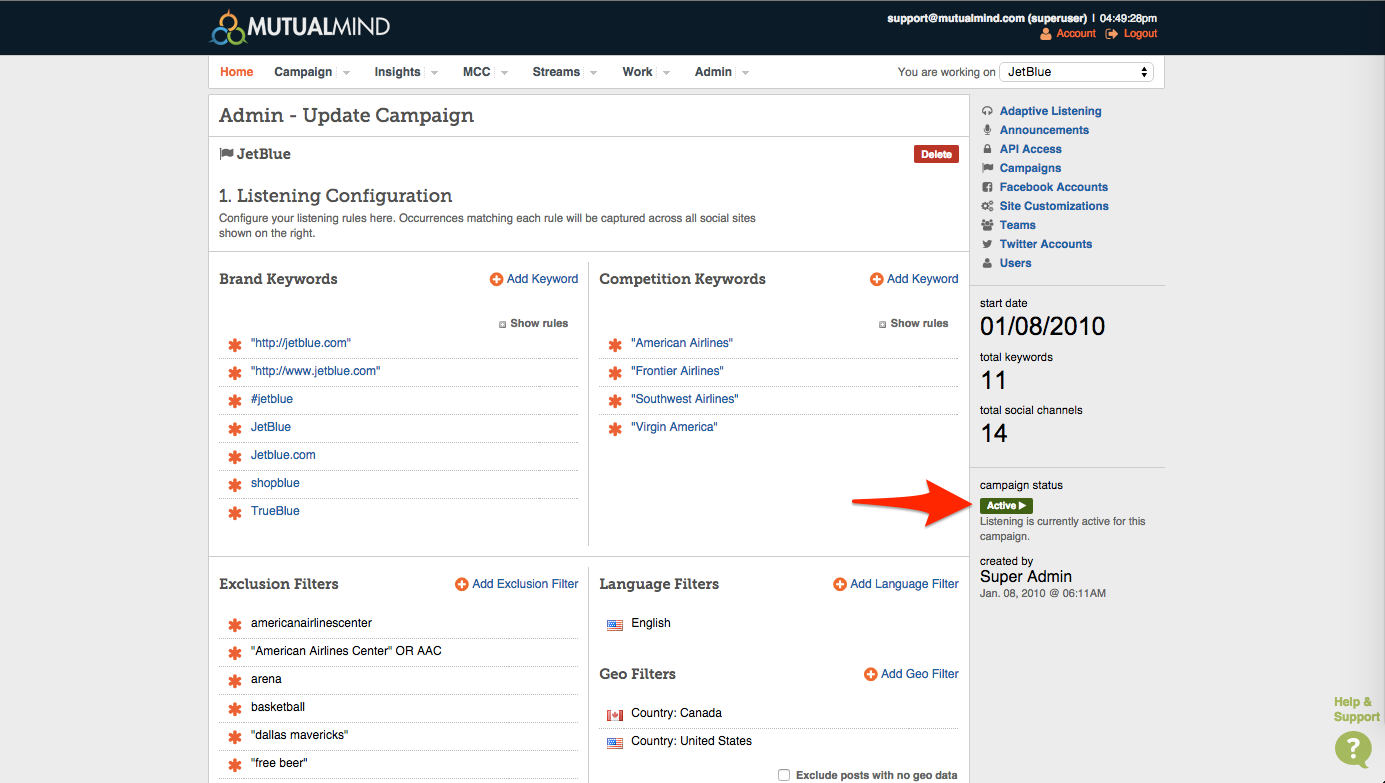 How do I delete a campaign?
Selecting the minus symbol on the "Manage Campaigns" page.





In the "Campaign Overview" page selecting the "Delete" button.



Campaigns that are deleted cannot be accessed again.

Related Article:
Campaign Access Control